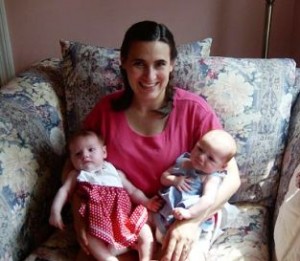 Who am I? Probably about the last person you'd expect to be unschooling,  let alone radical unschooling.  Before becoming a mom in 2003 I was an elementary school teacher.  I held dual certifications in regular and special education, and taught for ten years in a variety of capacities and grade levels.
Today, I'm wife to an amazing husband, mom to four extraordinary little ones, and happily living the unschooling life.  It's been quite a journey, one which had its beginning way back when I was a child.
I come from a family of teachers.  Three aunts, two uncles, one cousin and my mother are all in the education field.  From the time I was little I knew I wanted to be a teacher, too.  Because I was a good student – well-rounded and with high marks – I was often encouraged to "aim higher". But I felt certain that teaching was the right vocation for me, and obtained my degree in elementary and special education.   After graduating near the top of my class in college, I went on to teach for a prestigious school system in Massachusetts.
I was a passionate and dedicated teacher, spending countless hours during summers and on weekends pursuing professional development, creating lesson plans, and honing my craft.  I invested myself heart and soul in each student; striving to understand them, encourage them, build their confidence, and inspire in them a love for learning.
I failed.
Not from the perspective of my principal, who called me one of his strongest teachers.  Nor from the perspective of the many parents who expressed their gratitude over the years.  Not even from the students – many of whom often made their way back to my classroom for a visit after they'd moved on.  In fact, the only person who seemed to view my career as a failure was me.
Each year, I would be given charge of twenty or so little minds and souls, and each year I felt I had not done them justice. I observed the compliant, well-behaved children waiting patiently for the others to catch up, follow along or simmer down, and I wondered just how many of their moments had been wasted in waiting.  I saw the troubled students, the ones dealing with life situations that made book-learning seem irrelevant, and I ached to give them a safe haven.  I overheard the kids labeled with disabilities talk about how they "hated" this or that subject, and I felt that something must be badly awry.
I've come to realize that my own inner wisdom – which I'd learned to all but ignore during my 16+ years of schooling – was at odds with all of the training I'd received.
When my son came along, I knew I wanted better for him.  I decided to try homeschooling, figuring I could finally live up to my expectations if I had only one student in my charge.  I spent months researching, ordering homeschooling curriculum, and writing a plan for kindergarten.  Having been trained in the standards-based educational philosophy (which is, incidentally, pretty much the polar opposite of unschooling), I had mapped out exactly what Thomas would learn for the entire year before he ever set foot in the fancy classroom I'd made from our old playroom. I was sure homeschooling Thomas would be a smashing success.
It wasn't.
Thomas wasn't interested in learning what I wanted to teach. He didn't like the pressure of my expectations. He wanted to play, be silly, hang out, and explore bugs.  He did not want to practice handwriting or letter people or phonics.  He didn't even want to do the stuff I thought was the "fun" portion of our homeschooling. He wanted a relationship, not a teacher, and experiences, not curriculum.  We were at odds.  And I was bitterly disappointed.  I had really thought homeschooling would bring us closer together. Instead it had become a battle, driving us apart.
Then I discovered unschooling.
As I learned more about the unschooling philosophy, I found it really resonated.  It was connecting with my inner wisdom, my instincts that I had allowed to become buried under an avalanche of coursework and colleagues pointing in the opposite direction. I must admit it was a bit uncomfortable owning up to my new beliefs, especially to my teacher friends.  So for that first year, I was sort of a closet unschooler.  It was only Thomas's first grade year. I figured if it was a disaster, it was early enough in his schooling to change course. I watched and waited to see whether this new way of looking at the world would finally be the answer.
It was. Unschooling works.
At first, Thomas thought there must be a catch.  He couldn't believe we could actually just do what we wanted.  But after a while we both settled into it.  I saw his learning with new eyes, and it was magical. The best part was that I got to be more like his sidekick and less like his parole officer.  We became a team, giddy with our new-found freedom and a slight sense that we were getting away with something.  It was thrilling!
And so here we are, two years later.  All four of my children are enjoying the freedom and joy that has come from living the unschooling life.  As for me…you couldn't drag me back to a classroom.  I've finally found what was missing in my career: fulfillment and great joy. Unschooling rocks!
Learn more about unschooling