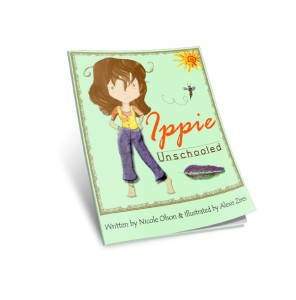 Meet Ippie!
Ippie's a barefooted, band-aid covered, free-spirited eight-year old. She's a lot like all the other kids in her neighborhood, except for one thing…Ippie doesn't go to school. She has no teacher and follows no curriculum. So just what is Ippie doing all day? And how can she possibly be learning? Come spend some time with Ippie and find out.
Written by former educator and current unschooling mom of four Nicole Olson, this ground-breaking story gives us a sneak peek into the world of unschooling through a child's eyes.
About the Author:
An unschooling mother of four, Nicole Olson is the voice behind the internationally recognized website unschoolers.org. Nicole holds dual certifications in regular and special education and taught in a variety of capacities and grade levels before becoming a full-time mom. She is the author of A Pair of Sparkly Sneakers: A Mother's Journey to Inner Wisdom.