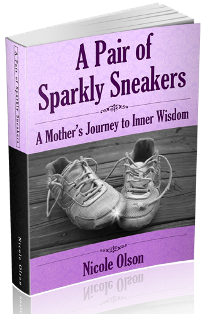 A Pair Of Sparkly Sneakers – A Mother's Journey To Inner Wisdom
A Pair of Sparkly Sneakers is exquisitely written and will enlighten & inspire! Major kudos. ~ Julie Genovese, author of Nothing Short of Joy
Riddled with the insecurities of new motherhood, Nicole believes far more deeply in the advice of authorities than in her own instincts. Expert opinion dictates her every move. But as her son's world begins to fall apart, that unswerving allegiance ultimately leaves her with more questions than answers. With each new expert – and expertly designed program – her little boy seems to be slipping further away. Near the breaking point and verging on desperate, can Nicole finally find the courage to listen to the two voices that have mattered most all along?
Poignant, honest, and heart-breakingly humorous, A Pair of Sparkly Sneakers calls into question the widespread cultural practices that methodically disconnect parents from their children, and explores the dangers of abandoning our own inner wisdom in favor of child experts and authorities.
Excerpts from A Pair of Sparkly Sneakers:
What could I say that would convince these people that I was a good mother? That Thomas' problems weren't all my fault?
I became so focused on that label "special needs," and on my perfection-driven response to it that in the process I lost sight of my little boy. He was no longer a kid to cuddle, a person to appreciate, relate to, and connect with. He was my cause.
The judgment, the self-doubt, and the words of the experts left no space for silence, no moment when that instinctual mother-wisdom might have had a chance to shine through.
Having read all the books, and tried all the tricks, I grew desperate enough to try something truly radical.
Discover your inner wisdom in this amazing book!
---
Ippie's a barefooted, band-aid covered, free-spirited eight-year old. She's a lot like all the other kids in her neighborhood, except for one thing…Ippie doesn't go to school. She has no teacher and follows no curriculum. So just what is Ippie doing all day? And how can she possibly be learning? Come spend some time with Ippie and find out.
Written by former educator and current unschooling mom of four Nicole Olson, this ground-breaking story gives us a sneak peek into the world of unschooling through a child's eyes.
About the Author:
An unschooling mother of four, Nicole Olson is the voice behind the internationally recognized website unschoolers.org. Nicole holds dual certifications in regular and special education and taught in a variety of capacities and grade levels before becoming a full-time mom.