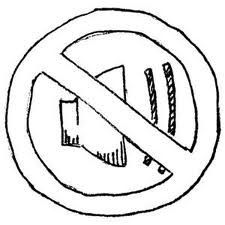 Earlier this week, I had the remarkable experience of seeing how powerfully my own "inner story" affected my daughter, Katy. Yesterday, I had yet another amazing experience: witnessing the power of a silent "I'm sorry".
These days, my son Thomas tends to be the most mellow of my bunch. But yesterday, I could tell something was bothering him. He'd been a little irritable all morning. Just before lunch, he stomped downstairs, angry that his computer had frozen. A few moments later, Faith padded downstairs and muttered something quietly to Thomas.
I can only describe what followed as a howl of pain – not physical, but psychological – erupting from Thomas. "You did WHAT?" he screamed at Faith, then took off in an all-out sprint up the stairs and into the office. I followed him and caught up just as he burst upon the scene of the crime. It seemed that Faith had just informed him that she had methodically ripped to shreds the 53 page script he'd been writing for the past three weeks.
I couldn't possibly overemphasize how important this script was to Thomas. Play writing is his passion, and this latest script was his heart and soul. He'd worked on it every night for hours, rehearsed it during the day, and dreamed about seeing it performed by his friends in the near future. To say he was furious wouldn't even begin to cover it.
At this point, Faith had the good sense to make herself scarce, but not before pointing out that Thomas's misfortune had been his own fault for hitting her and turning off her computer game when his froze. Thomas flung a few choice words at her retreating figure, then flung more than a few items across the room as his anger overtook him.
It's at these moments that I'm so grateful to have learned about the peaceful parenting paradigm. I'm able to see these behaviors for what they truly are: expressions of deeply felt emotion. Not the most adaptive expressions, perhaps. But for seven and nine, not that surprising, really.
It took Thomas at least fifteen minutes to calm down enough to talk about it. Finally, he was able to put into words the deep hurt and anger he felt about what Faith had done. I listened and empathized, validating his feelings. Finally, I asked him to consider how he wanted to handle things with his sister.
His most pressing concern, he told me, was to check on the extent of the damage to his script. As he began surveying the wreckage, I went in search of Faith. I'd only just begun to talk with her about her feelings when I heard the door behind me swing open. Turning around, I was surprised to see Thomas heading into the room.
Had he found the script in worse shape than he'd thought? I wondered. Had some of his other scripts been damaged? Was he about to launch himself at Faith with serious intent to do her bodily harm?
Another glance reassured me. He wasn't flying furiously at Faith. Instead, he was approaching her with this silly little shuffle they sometimes use with one another. As he slowly shuffled toward her, Faith's face transformed. The angry storm cloud that had settled over her features vanished, replaced by an air of anticipation.
Thomas silently held out a piece of paper with a picture and "To Faith from Thomas" written below. Faith received the proffered peace offering just as silently, then turned and mimicked Thomas's shuffle as she sashayed over to her nightstand. Lifting out one of her favorite bracelets, she gave it to Thomas without a word. The two of them embraced, then turned as one and shuffled out of the room together.
I'd had a speech all prepared about the importance of respecting personal property and making amends. But it seemed my audience had disappeared -and so had the need for my speech.
Words had been completely unnecessary. Thomas and Faith understood one another perfectly. I know this was partly my fault, their actions declared.  I'm sorry. And I forgive you.
If only we could all be so eloquent.