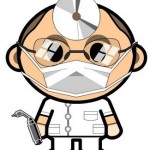 Recently I took my youngest daughter, Maggie, to her first dental appointment. She's my fourth, so I didn't give it a whole lot of thought.  I figured it would go like the initial visits of my three older kids. Our pediatric dentist works hard to make children's dental experiences positive, and all of my other kids loved their first visits.  So imagine my surprise when Maggie refused to open her mouth – except to reiterate how much she wanted to "get out of here!"
Thank goodness I've gained the confidence that can come with radical unschooling! I know if my oldest child had reacted that way, I would have been mortified. My goal would have been to get him to comply. Not so with Maggie. Today I realize that my role is not co-conspirator with the powers that be, so to speak. Instead, my role is to advocate for my child. To make sure that her needs are the ones being met, not the dentists'.
Now, I'm not saying that we should never listen to the experts, or help our children to cooperate if they can. But too often we're so intimidated by the authority figures that we lose sight of what's really important. Of course to the dentist accomplishing the cleaning was the most important thing. But that doesn't automatically mean it should trump my instincts or my child's needs.
After I'd made it clear (politely, I hope) that I wasn't going to allow Maggie to be coerced into compliance, the dentist informed me that we were welcome to come back as often as needed in order to get Maggie comfortable enough to have her teeth cleaned. That sounded pretty good to me – until she went on to tell me that these "failed" visits would be listed as "behavior management" visits and cost $50.00 a pop. Truthfully, I was way less scandalized by the price than by the name. Because the name revealed that even highly reputable pediatric practices may have a long way to go before they are truly child-centered.
Serendipitously, that very same day I came across a blog post about another unschooling family's experience with the dentist. That story reminded me that so much of what we parents do today bears taking a second look. And so I did. Here's what I realized…
I took Maggie to the dentist just before her third birthday because that's what my pediatrician has always recommended. Not because I felt she was ready (in fact, I'd had a vague sense that she seemed awfully young for this, but put it down to her being my "baby"). We went simply because that's when it was "supposed" to be done. I'd never even questioned it.
I felt pressured to get Maggie to open her mouth for the dentist because, in the hygienist's words, the dentist "really needs to see if there are any problems". But when I thought that through, I realized something: I see her teeth every day. I know whether there are any glaring problems. And I realized something else: if we forced her to open her mouth to check for problems, it would probably be next to impossible to get her to open her mouth to actually fix any problems the dentist might have found.
I felt a false sense of urgency to accomplish the cleaning because it was so important to professionals. Do I appreciate their offer to let Maggie come back once a week for as long as it takes to get her comfortable? Actually, I do. I know their intentions are good. But is it really necessary? Wouldn't it be just as helpful (and less expensive!) to wait until my older kids go back for a cleaning, let Maggie watch and then see if she wants to take a turn? My other kids go back in September, and I actually caught myself thinking, "Oh, that's WAY too long to wait.  What a shame!)  I had started to buy into that sense of urgency just by being around it.
So what's my take-away from all this?
Believe it or not, it isn't to bash dentistry or encourage you never to listen to what a dentist has to say. Because the dentist was sort of beside the point.  The real take-away was this: that we shouldn't let fear be the major factor in the decisions we make and the actions we take. At the root, that's what it is: fear. Fear that we might mess up, fear that we might not do this parenting thing the "right" way. Fear that if we don't listen to the experts terrible things will happen. When we get past the fear, we can think clearly. We can question ourselves and others. We can listen to our own instincts.
Too often, we abdicate to the experts. We forget that we're experts, too. We are gifted with insight, wisdom and passion about our children that no one else could possess. When we truly believe that, we can find the confidence we need to do what's right for our children.