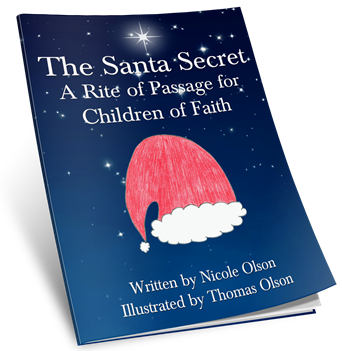 Help your child discover The Santa Secret – A Rite of Passage for Children of Faith.
This book helps families of the Christian faith to transition their children from the wonderful tradition of Santa Claus to the wondrous truth of the gospel.
The Santa Secret is a more than a story for children who are ready to let go of the magic of Santa; it is a rite of passage. It is a story for parents to keep high on a shelf, waiting patiently for the question that will one day come – "Is Santa Real?"
Rather than dread or avoid that question, the Santa Secret helps us embrace an opportunity to share the Good News of Jesus with our little ones.
Read it together. Mark the milestone. Celebrate the passage. Hear the Good News!
About the Author:
An unschooling mother of four, Nicole Olson is the voice behind the internationally recognized website unschoolers.org. Nicole holds dual certifications in regular and special education and taught in a variety of capacities and grade levels before becoming a full-time mom. Recently, she has combined her passion for unschooling and her love of writing to author two new books, The Santa Secret – A Rite of Passage for Children of Faith and The Day Durinda Disappeared – details coming soon!