I was four years old when my baby brother entered the world and took center stage in my family – or at least, that was how I felt. Until then, everything I'd said and done had been noticed – celebrated even. Suddenly, my accomplishments were old hat, and all eyes were focused on this small, helpless (and in my opinion, incredibly boring) little person. Smiles, hiccups, sneezes…all brought delight to every grown-up around. Meanwhile, nobody seemed to care about all the big-kid things I could do.
I might as well have been invisible.
I'm happy to say that 40 years later, I absolutely adore my brother. But when he first came on the scene, I felt, well, displaced.
Unimportant.
Like I'd disappeared.
I suspect I'm not the only older sibling who has felt this way. It was a sad, lonely feeling. And no one could talk me out of it.
No amount of pointing out how adorable the baby was, or letting me hold him changed my feelings.
No assurance that my parents loved me "exactly the same" convinced me.
I had been special. Now I was not. That was my reality. Not forever, but for a while. And I've never forgotten it.
That's why I've written this book.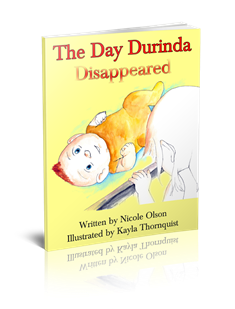 I'm hoping The Day Durinda Disappeared will help to give words to the feelings some older siblings experience…and that the surprise ending will help them to see their own special place in the family.
I hope you'll take a peek!
P.S. The illustrations for this story were done by Kayla Thornquist, an amazing young artist. I hope you'll check out her artwork at coroflot.com/kaylathornquist!