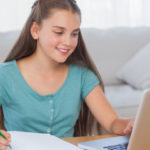 I'm so excited to share my latest adventure…designing online classes that are based on the unschooling philosophy!
As my kiddos have gotten older, I've really enjoyed sharing my passions with them. For better or worse, they are now fans of Broadway musicals, American Sign Language, Jane Eyre, and the television reality show Face Off. (Wow, that list is all over the place…I COULD call it weird, but I'm going with ECLECTIC!)
Another thing they've picked up from me is an interest in history. Way back in school, you never would have pegged me as a history buff, but it turned out that as soon as I was no longer force-fed textbook history, I discovered that it's actually really exciting! I love sharing fascinating tidbits from my favorite time periods with my children. Former teacher that I am, I also constantly collect information about history (seriously, you should SEE my bookmarks folder; I'm totally an internet hoarder!) Several months ago, my love of history and my penchant for information-gathering gelled into a new idea: sharing my passion with other unschoolers in the form of online learning.
In true info-hoarder form, I did some looking around at the many online learning sites out there. Lots of them are great…but I couldn't shake the feeling that there was something inherently "school-y" about them. There seemed to be an implicit dichotomy; sort of a "We are the Authority and decide what you should learn/You are the Learner and must learn it" kind of tone. (Full Disclosure: I'm probably extra-sensitive about this right now because my husband is in graduate school and keeps making comments like, "I don't know if I gave my professor what he wanted on that last paper" which sets my teeth on edge…but that's another post!)
That's when I got the idea for uCurriculum. It puts learners in the driver's seat. THEY determine what they get out of the course, and THEY choose what they want to put into it. It's kind of like a buffet for the mind. I've prepared a bunch of tasty dishes, but each child decides what to put on his or her plate. Through it all, I'll be available to guide, facilitate and provide thoughtful feedback – and to receive their feedback, as well.
There are three pathways to each course in uCurriculum:
U and Me: Learners work through the presentations and follow-up activities that interest them. They can upload any work they choose, and I'll offer my guidance and feedback.
Us: Kids can join our online learning community. They work through the presentations and any follow-up activities that interest them. Then they engage in the forum discussions and upload work they want to share with the group. I'll provide guidance and feedback.
University-bound: Teens who are looking for a more formal course to put on their transcripts can choose this option for a grade and certificate of completion. This pathway requires learners to complete all presentations and follow-up activities.
I'm so excited to see how this type of online course works for unschoolers! (In fact, two of my own unschooling kiddos have kindly offered to be my guinea pigs and do a trial run. I KNOW they won't hesitate to be brutally honest!)
Right now, the courses are aimed at middle and high school age children, but another advantage of uCurriculum is that "U" decide – there is no age or grade/level requirement.
So far, I am offering two courses on American history: Road to Revolution, which explores the events leading up to the Revolutionary War, and Revolution: Patriots, Loyalists, Battles and Spies, which takes a non-traditional journey through this pivotal period in history. I'm looking forward to adding more courses (both history and other subject areas). I hope you'll come along on this journey with me!
Here's that link again, in case you want to take a peek! uCurriculum