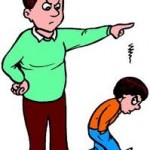 One of my husband's biggest struggles has been how dramatically different the unschooling philosophy is from the way he was raised. The parenting style he grew up with was very much the authoritarian model. In his early adulthood, Ted fully embraced this all-too-common style of parenting. It was all he knew. 
As we discovered radical unschooling and peaceful parenting, Ted had a lot of rethinking to do. How could he make sense of a philosophy so foreign to his own experiences?
One of the many things I truly admire about my husband is his unflagging determination to continue to grow and learn. As he explored this radical shift in parenting – from dictator to partner – he has made some really insightful observations, which I'm so excited to share here on unschoolers.org. 
I Don't Speak Kid by Ted Olson
I discovered a profound truth recently. It occurred while I was asking my kids to brush their teeth. They didn't. They didn't even listen. Why? I don't speak kid.
My language and expectations come from the well-known and ever-prevalent top-down, authoritative, might-is-right approach. Go brush your teeth. Why? Because you need to. It's that time. I said so. What my kids hear: blah, blah, blah!
Kids speak a different language – a better one. It's focused on the now. It's spontaneous. It's relational. It's magical. It's creative. It's fun. My kids will be having a ball with a piece of string, some scotch tape, and an old shoe. What do I do? I walk in and say, "STOP! Go brush your teeth!"
Why don't my kids listen to me? I don't speak their language.
Might-is-right language presumes a lot. Saying "go brush your teeth" is actually a command. Think about it. I don't know many people who like to be commanded. Led, included, yes. Commanded, not so much.
These days, I'm not so concerned about getting my kids to listen to me. Rather, I'm more interested in thinking outside of the might-is-right culture and mentality. It's a different mindset than most are used to. One that can be difficult to envision, let alone put into practice. But it can be done.
In addition to being an unschooling dad, Ted is the voice behind HolisticFaith.com, where he writes about religion, faith, spirituality and life.