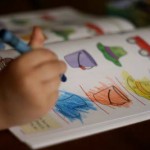 Friends of ours recently gave us a bunch of old workbooks their kids had outgrown, and today I pulled one out just out of curiosity. It was kind of cute, using classic literature and incorporating a few skill-based worksheets. As I flipped through the pages, Faith's eye fell on some cut outs of farm animals from the story, "The Little Red Hen".
"What are those for?" she asked.
I read her the directions which said that you were supposed to cut them out, glue them to craft sticks and use them to retell the story.
"Can I have them?" she eagerly requested. She immediately got to work cutting them out and gluing them to craft sticks. At this point, somebody somewhere else needed something (isn't that always the way?), so I stepped out of the room, tended to that need, and then got busy elsewhere. After about 20 minutes, Faith emerged and proudly informed me that she intended to perform a puppet show later this evening.
She showed me a backdrop that she'd constructed and decorated with a forest scene. "This part was the hardest to figure out," she noted, pointing out the slit she'd cut near the bottom in order to stick the puppets through and move them around without being seen. She'd also added about four characters and composed an entirely different story.
Her enthusiasm was contagious, and it wasn't long before Katy joined in. More puppets and backdrops were created and the play grew in complexity. I'm happily anticipating tonight's performance, which Faith says will be given in honor of "Mommy and Daddy for being such great parents" (hey, I'll take the compliments where I can find them!)
I love that this unschooled child took a rather limiting and lifeless activity and used it as a springboard for such a creative project. It's amazing what our children will do when we trust them to direct their own learning and pursue their own passions!
Gotta go spruce myself up…it's off to the "theater" tonight!