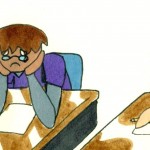 So as it turns out, I'm writing a small series on a single episode of a show called Harry's Law. What does that have to do with unschooling, you ask? You'd be surprised.
The episode centers around 16-year old Scott, who's battling his parents in court in order to win the right to quit high school so that he may continue the career he's built developing Twitter apps (for a very tidy sum, I might add).
Much of the dialogue between the boy and the lawyers touches on unschooling philosophy. But the testimony of his mother touches on something else entirely: the premise that hating school is normal. That kids don't know what's good for them. And that school, like a daily dose of castor oil, is a necessary evil.
This is what comes out when Ollie, her lawyer, makes the statement that her son – in spite of his stellar record –  doesn't like school.
Listen to her response…
"Well what kid does? He's 16.  He's into girls, hanging out with his friends, sleeping in in the morning…"
This from a woman whose 16-year old gets up early, goes to work faithfully, and brings home the bacon to the tune of $72K, all the while gaining valuable training and experience.
In his book Punished by Rewards, Alfie Kohn notes that we're in pretty big trouble when an idea has become so ingrained in our collective minds that we don't even think to question it anymore.  Nowhere is this more apparent than the school arena. TV shows, books, and real life conversations all share a very common theme when it comes to school: that pretty much nobody likes it – especially teenagers. Astoundingly, this overwhelming vote of no-confidence has resulted in – well, absolutely nothing.
We shake our heads, remembering doing our own time in the system, grateful to be free. And that's pretty much the end of it. The idea of school being a necessary evil has become so ingrained that it doesn't even occur to us to explore alternatives. Even worse, we've bought into the fear that a person who doesn't pass straight on from high school to college is doomed to miserable, minimum-wage, manual labor. And the fear paralyzes us. After all, we can't all be Steve Jobs or Mark Zuckerberg, right? So we stick with the tried and true…put in your time, and hopefully one day you'll reap the rewards.
Likewise, the poor mother in Harry's Law is terrified that her son is headed for disaster, in spite of the evidence staring her right in the face: that he's already a productive member of society, that he's gaining expertise and experience, and that five or even ten years down the road, he could still go to college.
So what does this mean for us? Do we shrug our shoulders, pat our kids on the back and urge them to grin and bear it? Or do we summon up the courage it takes to face what we've taken for granted, and -maybe for the first time – dare to question it?
That sure would be one interesting cross-examination.