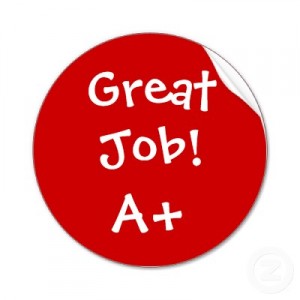 In his book How Children Fail, John Holt discusses the damaging messages that schools and teachers send to children.  There are a lot of them, but one really resonated with me, because it described my own experience.  Here's what Holt has to say:
What teachers most reward is not knowledge and understanding but the appearance of them.
He goes on to describe how the most savvy students come to look upon school as something of a racket – a system to be beaten.  He did not mention, however, another very real result of rewarding the appearance of mastery rather than the real McCoy: Imposter Syndrome.
Most of us have probably experienced it at one time or another: that feeling that you really have no business doing what you're doing, or leading what you're leading, or accepting that award you're being given.  That if people could actually see the real you, they'd realize you had no idea what the heck you were doing, and you were really just a big fat poser. Sadly, that was my experience in school from very early on, and it continued to be the case all the way through.
On paper I was an excellent student.  My grades were always high – even in subjects I didn't really understand.  I'll never forget slogging my way through a discrete math class, never really understanding the why of what I was doing, anxious every time a test came along.  But I aced every exam and got an A in the course.  It wasn't the only one.  I left high school with a shaky foundation, at best, in most every subject.
No one had any idea.
Graduating second in my class made me look like quite a "brain".  I received all kinds of honors and awards.  Yet I was constantly plagued by a vague sense that I didn't deserve the fuss.  People chalked it up to false humility, or maybe low self-esteem and paid no attention to my protests that I could name at least a dozen of my classmates who were smarter than I was.
Because I truly believed that a good grade equaled learning success, I became hyper-focused on earning those good grades. I was good at memorization, and that served me well at test time. Sadly, memorizing  math formulas or scores of historical events did nothing to deepen my understanding of the material.  My quest for good grades also made me reluctant to take risks – such as trying out a challenging course – because it might mess with my grade point average.
For a long time I couldn't figure out why I felt like a total fake in spite of my high grades.  Finally, as an adult, I've come to realize that I knew on some level that my appearances didn't reflect my actual understanding.  I sensed the disconnect long before I could articulate it.
Unschooled children don't experience this disconnect.  They have the freedom to pursue what they want, making connections and deepening their understanding at their own pleasure and pace.  Since there are no grades dangling in front of them like the proverbial carrot and stick, unschoolers learn for learning's sake.  They learn because they want to – because they are fascinated and passionate.  They learn as a side effect of living life in the real world.  An unschooler's life is one of authenticity.