The Berenstain Bears Go to School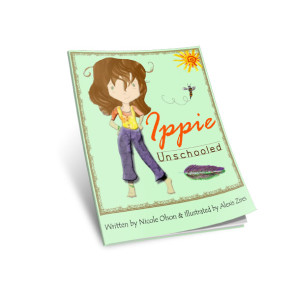 First Day Jitters
Miss Nelson is Missing
Recognize these titles? They are just three of the 274,222 children's books listed under the term "school' on Amazon.
274,222 books!
This is a lucky thing if you've got a child in school.
Got teacher troubles? There's a book for that. Dealing with a bully? There's book for that, too. Whatever aspect of school you want to read up on, chances are good you'll find a hefty chunk of choices. There are a multitude of literary characters to whom schoolchildren can relate.
But what about our kids? As an unschooling mom, I've been asking myself: where are the characters who reflect my children's experiences? Where are the characters leading this amazing life so many of us treasure? And after some research, I discovered the answer: they're nowhere to be found.
Until now, that is.
I'm delighted to introduce you to Ippie, the main character in my new children's book!
Ippie's a barefooted, band-aid covered, free-spirited eight-year old. She's a lot like all the other kids in her neighborhood, except for one thing…Ippie is unschooled.
The first in a series, Ippie Unschooled offers unschooled kids – our kids – a glimpse of their own reality, and I'm thrilled about that!
But there's another reason I'm so excited about this book…
Look for my next post to hear all about it!