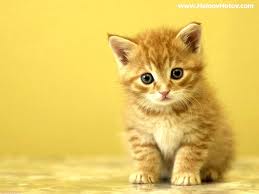 For two years now my daughter Katy has wanted a cat. No, wanted isn't really the right word. Passionately desired with every fiber of her being is more like it. At first, I kind of figured it was a passing phase. After all, she was barely five years old. Her tastes changed as often as her clothing did back then.
But it wasn't a phase. As days became months, it was clear that having a kitty was far more than just a passing fancy. It was time to give a cat some serious consideration.
But there was a catch. I'm deathly allergic to all things feline. Not just a bit sniffly, mind you. No, my allergy is more the eyes-like-sandpaper, nose-streaming-like-a-river, lungs-constricted-in-a-scary-asthmatic-wheeze kind of allergy. The kind that doesn't really allow you to say, "Well, let's just give it a go and see what happens" when it comes to lodging a small, furry houseguest.
So how does one honor such a deep desire while also honoring one's need to breathe?
First of all, one takes both the desire and the need seriously. And then, one gets seriously creative.
It would've been easy to just put the kibosh on the whole thing. I mean, I really need to breathe. It's a totally justifiable reason to nix the idea of a cat, right?
But part of this unschooling life involves honoring our children's interests and helping them pursue their passions – even when those passions may bring on an asthma attack. So we decided to approach the problem with positive intention. Instead of focusing on seeming obstacles, we focused on what we could do. And once we started thinking along those lines, all kinds of opportunities presented themselves.
So often we're tempted to dismiss our children's desires as impractical, inconvenient, or even impossible. Our minds immediately flit to the many obstacles and potential problems. But when we instead assume that there is a way to facilitate our child's desire, and work backwards from that premise, suddenly we're open to so many possibilities.
So did we end up getting a cat? If you've read the post about our new pet, you'll know the answer – or at least part of it. But all throughout the process, we've found creative ways to honor Katy's passion for kittens. We've visited friends with cats, spent time at an animal shelter and a cat show, and researched hypoallergenic breeds. We quite possibly own every stuffed animal and mechanized cat on the market. And I am undergoing weekly allergy shots (very bravely, I might add) .
Most importantly, Katy has seen us honor her desire. She has learned that there are many ways to realize a dream, and that pursing a passion is possible, despite what may seem like insurmountable problems. And whether or not she one day outgrows her desire for a cat, she will carry that knowledge with her forever.