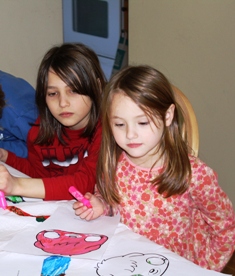 Unschooling parents don't set out to teach academics. But that doesn't mean academics is missing in action.  It shows up in some pretty unusual places.  At our house, it recently put in an appearance at a birthday party.
When Thomas, my oldest, turned one I planned a fabulous duckie party. For my twins, it was a farm theme. Each year as birthday time approached, I spent hours planning out a perfect party.  I loved doing it.  I guess my kids caught my enthusiasm, because as they've gotten older, they've eagerly joined in the planning, contributing more and more.  But this year took the cake, so to speak!
Thomas decided he wanted a Moshi Monster birthday party, and that he and his sisters were going to handle the planning from A-Z.  Basically, my only role was to provide the cash for the supplies they needed! So I relinquished my role as party planner extraordinaire and let them have at it.
It's truly amazing what an eight year old with two six year olds at his command can accomplish! They planned the games, designed the cake, made a list of supplies they would need, and helped shop for everything.  They spent hours creating a moshi monster world on the paper tablecloth, making the pieces for the games, stuffing the goody-bags and planning their costumes. They colored invitations, stuffed envelopes, wrote addresses, and added stamps. They even helped decorate the cake – and came up with some better ideas than I did for getting the right look.
I challenge any teacher out there to come up with a better "integrated unit!. My kids engaged in math, writing, reading, self-pacing, arts and crafts, and cooking, just to name a few of the skills we covered. But this wasn't a unit. It was better. This was real life. My kids were so motivated, so engaged, because this was truly something they wanted to do!
All I had to do was provide them the support they needed to accomplish their goal. I didn't have to expend energy trying to coerce them to do anything. Instead, I was free to enjoy the process right along with them. I was there to remind them how to spell a name or show them where the return address goes.  I was available to provide feedback, make suggestions, and step in when they needed me. But mostly, I just got out of their way. All that creative energy didn't need my prodding …it just flowed.
And when the party was over, the last guest gone home, the last gift unwrapped, the pride and pleasure they took in making that party come to life lingered. For me, that was the best gift of all!