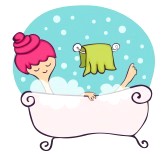 Recently I wrote a post about how difficult it can be for us moms to make time to care for ourselves. It's something I've struggled with since the moment I became a mother.
And apparently, I'm not alone. So many of you wrote back to say that you share this same challenge. A few of you even shared the creative ways you've addressed it.
And it got me to thinking: wouldn't it be great if we could all learn from each other here? I know I can use all the help I can get!
So, please, won't you tell us how YOU take care of you? What are the small, practical, totally do-able things you do to save your sanity, care for your body, and nurture your soul?
Leave your tip in the comment section below where we can all read it. What better way to support each other than by helping one another to help ourselves?