In my last post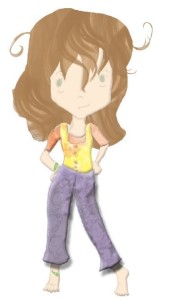 , I had the great pleasure of introducing you to Ippie, the main character in my new children's book about unschooling. I'm super-excited about this book for a bunch of reasons, but here's the best one: because the publishing of the book itself was an amazing unschooling experience.
Want to know why?
Because a bunch of unschoolers had a hand in it! Here's how…
Once I finished writing Ippie Unschooled, I began looking for an illustrator. After considering several professionals, I had an inspiration: why not find an unschooler?
I reached out to the unschooling community, and connected with Alexis Zires, a twelve-year-old self-taught artist. She completely captured the essence of Ippie, and our collaboration began.
Alexis' mother worked with us, offering Alexis feedback, scanning and sending drawings, and keeping in touch with me. Soon Alexis' sketches were complete. Next step: bringing the art and text together.
Once again, I reached out to the unschooling community, this time in need of a graphic artist. That's how I found Tina Christopher, who not only embraced my vision, but expanded on it. She suggested we invite kids from our homeschooling community to contribute art. Soon we had pictures from ten children!
As Tina digitized and placed the artwork, she included my children and her own in the process, showing them how to add color to their creations and getting their feedback about each page as it developed. It was inspiring to witness their enthusiasm as the book began to come together!
And the opportunities for learning continue! Alexis will collect a share of the royalties, and will be learning how to use the publisher's tracking and sales software to calculate her earnings. My son, Thomas, has developed confidence in his artistic skill, and is currently illustrating the second book in the Ippie series. Tina and I have been invited to speak to a group of homeschoolers about the process of writing and publishing a book.
The multi-age collaboration, the many academic skills embedded in the process, and the real-life experience of bringing a book to life made this a truly meaningful experience to all involved – adults and children alike.
That's the magic of unschooling in action!