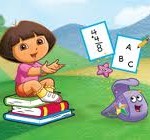 It's bedtime, and Katy is pouring out her troubles to me as we lay snuggled together. She mentions the usual: the baby still gets too much attention, her brother always gets to stay up later, when can she have a playdate with Jennifer? But then she brings up something new.  Something that bothers me as much as it bothers her.
"I can't read yet, Mommy. Even babies can read," she says.  "What if when I get big I decide to go to school?"  Her voice catches.  "I won't be ready!"
I lay there with my five year old and think how interesting it is that although she has never attended public school, she already perceives it to be a place where she will be judged.  A place where she may not measure up.  A place where she could fail.
For this, I blame Dora the Explorer, LeBron James, and Dr. Titzer.
Katy's just recently started attending to television commercials instead of seeing them as periodic opportunities to spring off the couch and use the bathroom, check in with me, or hassle the baby. Since I'm usually at least within earshot of the ads, I'm pretty sure I can place the blame squarely on two which appear innocent enough at first glance, but clearly convey a deeper, more troubling message.
The first ad starts out with a disturbing statistic about just how many children enter kindergarten unprepared. (For what? you may ask.  Well, they don't exactly say, though clearly it's something pretty important.)  But good news follows!  Dora and LeBron James  have teamed up to give kids a leg up with a new online program. Parents simply take a quiz and then are given a customized readiness plan  to "prepare their children to excel in life's next big adventure: school!"
Okay, I get it.  Lots of kids go to school and aren't able to perform as experts say they should.  In my opinion, this is largely because we are asking them to perform things in which they are not interested, in a way that is not interesting, in a place that doesn't  meet the needs of its myriad of learners.  But Katy hasn't got quite enough experience behind her to have formed such a jaded opinion.  No: in her world, if Dora says it, it must be true.  And Dora's telling Katy the chances are good that she is "UNPREPARED!"
The second ad shows babies (and I mean actual babies….like under-one-year-old-babies) miraculously reading words off of flash cards. With this system, developed by a "foremost authority in infant learning",  reading  is so simple a baby can do it. Ecstatic parents gush about what their infants have accomplished.  The announcer, who looks and sounds like she knows what she's talking about, assures us that learning to read early gives children an edge in school and can even predict their school-related successes.
Are you kidding me?  Don't babies have better things to do?  Like, maybe, learn to communicate? Figure out that objects fall down and hot stoves are boo-boos and sitting in Mommy's lap reading an actual book  is cuddly and pleasurable?  Again, Katy lacks the critical thinking that I've had many years to develop.  She sees babies reclined in their bouncy seats reading "elephant" off a flashcard.  She looks at the book in her lap. If it doesn't contain the words Katy or cat, she can't read it.  Never mind that she makes uncannily accurate predictions about what may come next in a story we're reading aloud.  Or that she can not only name the main characters in a book, but knows they are called main characters.  Or that her experience of literature thus far has been enjoyable and rewarding, despite being mostly oral.  Katy is years older than that elephant-reading baby, and she has just realized that she couldn't read a flashcard to save her life.  She is UNPREPARED!
With high-stakes testing, the push-down effect has gained momentum in our schools.  Earlier and earlier, our children are feeling pressured to perform-  to acquire skills years before their parents were a generation back. There is an undercurrent of urgency: Do more! Learn more! Perform better! Or….well, it's never really spelled out, but clearly relates to lack of success and life-long personal dissatisfaction.  And if  an unschooled five-year-old can sense this pressure, you can be sure most schooled kids are feeling it ten-fold.
It takes a lot of reassurance to ease Katy's newly-awakened fear of being "unprepared".  She still has to talk herself through the reading- babies commercial whenever it airs.  Every day I am grateful that it is only the effect of  two ads that  I'm battling, and not hundreds of school hours.
Meanwhile, Katy has discovered a passion for a certain computer game – not an overtly educational one, but a whole cyber world in which she can immerse herself.  There are a multitude of games she enjoys on this site.  One day I'm watching her race the clock in a game of logic.  The answers are all color words, and she quickly navigates them.  I realize she's reading the words.  In the space of a few days, she has effortlessly incorporated about 6 new sight words into her repertoire as a side effect of engaging in an activity that brings her joy. No flash cards. No customized readiness plan.  And Dora didn't have a thing to do with it.  Turns out, Katy's not so unprepared after all.