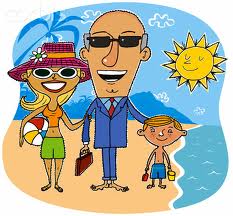 It's 11:55 on a Saturday night. In just about 5 minutes, my husband will turn 42. For the last 15 years, I've had the privilege of sharing those birthdays with him. But not tomorrow. Tomorrow he will be winging his way to sunny Florida on business, while I keep the home fires burning.
As I sit here thinking over what the next few days will hold for him – five star hotels, fine dining, rubbing shoulders with executives from around the globe – I'm struck by the two worlds he has to navigate on a daily basis. First, his work life, which is about as mainstream and white collar as it gets. Then his home life, which is anything but mainstream – and where any collars involved have long ago become a dingy gray.
So many of our husbands are in a similar predicament. How do they walk gracefully between these two worlds, honoring the best in both, staying true to themselves and their core beliefs? When I think about how challenging it must be to keep up with that ever-changing dance, I'm filled with gratitude that I can be home, fully engaged in this unschooling life 24/7. And it's thanks to Ted that I can.
There have been a few (okay, maybe more than a few) times that I've fallen prey to the "grass is greener" mentality in my marriage – especially during these annual business trips that seem to flaunt the high life like a delicious carrot dangling just out of reach. Have I mentioned the time that Ted attended a posh function at Hugh Hefner's residence? How did I spend that very same night? You guessed it: changing poopy diapers while dressed in sweats, munching on the baby's luke-warm left over chicken nuggets. So you can see why I might be tempted to compare.
But in my more clear-headed moments, I can see how difficult it must be for Ted -and for many unschooling dads – to walk with one foot on each side of the fence. To leave the fiercely competitive, dog-eat-dog world of 9-5 and come home to a world of peaceful parenting and mutual respect.
I'm so grateful that it's a life Ted is willing to lead. I try to remember this in his less-than-unschooly moments. When he just wants the kids to hurry up and get to bed or give him 5 minutes of peace and quiet. When he has a momentary panic attack that our three year old has wanted nothing but chocolate bars for a week straight. Or when he casts his eyes to the heavens and asks if once, just once, somebody could do something just "because I said so!"
It's not always easy, but I'm learning how to extend to my husband the same acceptance that I offer my children. It comes more easily with my kids, I'll have to admit. But when I can remember to respect and value Ted's unique journey, everything is better – our marriage, our parenting – everything.
I can even let go of the playboy bunny soirée.
Well, almost.
Happy Birthday, honey! I am so blessed to share this amazing life with you.