Never underestimate the power of a good sensory activity to attract children of all ages. This one, from Growing a Jeweled Rose, was a hit with kids ranging in age from four years to nearly eleven!
Here's what we used: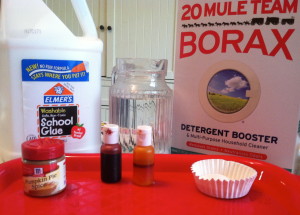 A little tip: clean up is so much easier if you cover your table with an inexpensive plastic tablecloth that you can roll up and toss when you're done. I learned this the hard way!
We mixed up the batch together, which included measuring, mixing primary colors to make a secondary color, and following directions. Educational experiences right from the get-go!  But the best part was…
PLAYING!
And play they did. They explored in every way possible, pulling, pushing, squishing, wrapping it around various appendages…you name it, they tried it!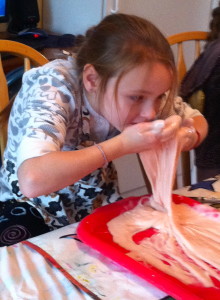 Mmmm….smells like pumpkin pie!
After about half an hour the older kids were ready to move on to other things, but the two younger children kept playing. The exploration morphed into dramatic play as imaginations were sparked.
"I'm making a roll for my bakery!"
"I'm flattening the dough for my pizza!"
"These are the bad guys…let's karate chop them!"
Amazing how such a simple recipe can be the launching pad for an afternoon of FUN!