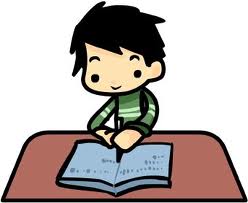 This fall, Thomas decided to take on fifth grade academics. He was eager to know "everything a fifth grader knows".  It was the first time we'd be using formal curriculum in four years, but he and I were both up for it. Bright and early one September morning we officially launched fifth grade (okay, it was more like 9:30, but we're unschoolers – that IS early in our book!)
Now it's November, and several of you have asked how it's going.
For the first week, Thomas eagerly took on any and all assignments I gave him. His motivation to be learning exactly what his schooled peers were learning was strong, and more than made up for any lack of interest on his part. As for me, I was enjoying the focused time together more than what we were actually doing with the time, but I was happy to go with the flow.
After about three weeks, Thomas was growing weary. "Why do I have to watch another video about the Anasazi? It's boring!" he'd lament. I'd remind him that I was following the fifth grade curriculum he'd requested. "I know, Mommy," he'd reply, "and I'm committed to doing it – but it's not much fun!" He tackled assignments with the air of a very small martyr.
By the beginning of October, he was getting fussy. "I'll do some math today, but you can forget about social studies!" he'd warn me. I reminded him that he'd wanted to do this (not in a snarky way, mind you, just a "hey, we can ditch this anytime you want – it was your idea!" kind of way). "I know," he'd grumble. "Maybe you can just plan math and spelling next week."
By the middle of October, curriculum had pretty much lost its appeal. He suffered silently – or not so silently – through factors and remainders, pronouns and interjections, but his heart was clearly not in it.
Last week, he announced, "Mommy, I'll do the work you planned this week, but then you can stop planning. I think I've done enough curriculum for now. What I really like is just spending that time with you." I assured him that even without curriculum he'd still be growing and learning all the time. "I know, I know," he mumbled as he signed into his favorite online game.
This week, we met bright and early (okay it was more like 10:00 – but hey, it was daylight savings!). No worksheets or activities waited for us at the table. It was completely clear – inviting us to ponder the many possibilities of how to use these moments.
"So," I began, "what do you want to do?"
So far, we've had two rousing rounds of Clue and several chapters of Harry Potter.
Farewell, fifth grade – for now, anyway!