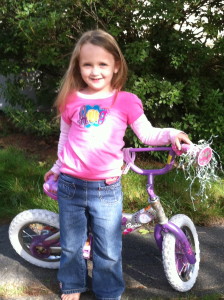 "Mommy, take off my training wheels. I want to ride like a big kid!" my four-year old commanded. It was all of two weeks since she'd received her first two-wheeler, and she was tired of those "baby training wheels" holding her back. She wanted some speed, wanted to feel the wind whipping through her hair, wanted to take a nice, tight corner at a respectable clip. She was ready to ditch the stabilizers.
I'm a big proponent of trusting a child's wisdom. In my book, A Pair of Sparkly Sneakers, I describe how I learned to listen to my son's deep inner sense of what was best for him. It's a topic I've spoken and written about: this idea that children know a lot more than we give them credit for is not new to me.
So you'd think when Maggie made that pronouncement, my response would have been, "Okay! Let's get those things off and give it a try!"
Not so.
Instead, I balked. Sure she thought she could do it, but I knew she couldn't. After all, she'd literally just started to get the feel of riding with training wheels. Clearly she had no clue about how much harder it is to ride without them. After a few aborted attempts, she'd probably end up abandoning the bike altogether (or worse, I'd have to go find the stupid training wheels and figure out how to put them back on…ugh!). So I very reasonably explained to her that you really need a lot of experience riding with training wheels – not to mention the ability to reach the ground (she couldn't) – before you try riding without them. And that was that.
So I thought.
The next day, Maggie made the same request. And the next. Each time she got the same answer from me. I'm rather embarrassed to admit it, but it wasn't until she took up her cause with my husband that she finally saw some action. He did what I should have – trooped outside and whipped those training wheels off. I was out at the time, which turned out to be a good thing, because I probably would have put a quick stop to that if I'd been home.
I returned to find my daughter Katy coaching Maggie as she sat astride her bike on the grass. Next thing I knew, Katy was giving her a running start and then – gasp – letting go! Of course Maggie stayed upright for all of two seconds, then plunged over to one side. I stepped forward, preparing to comfort my frustrated and probably injured little girl, but in an instant she was up again, brushing off her hands and happily exclaiming, "Again, Katy! Again!"
And again she went. Time after time, day after day, until one day she managed to make it across the yard before crashing. Next thing I knew, she was riding on the driveway, circling around, stopping and starting like a pro.
"Wow, Maggie! You're doing it! You're really doing it!" I cried out, a mixture of pride and incredulity in my voice.
Maggie stopped, jumped off her bike and gave me the look. The one that makes me think there may possibly be a twenty-five year old living in that four-year old body. "Mom-my," she drawled, with an unmistakeable note of impatience. "I told you I could do it."
She had.
In a (hopefully) momentary lapse, I had forgotten what I thought I knew so well. I had looked at this small person and assumed I knew better. I had forgotten to listen for her inner wisdom and weigh it along with mine. Worst of all, I had let the inconvenience of wrestling those wretched training wheels off the bike – and the frustration I thought would follow once Maggie gave it a go – factor too heavily into my decision. I'm thankful Ted and Katy heeded Maggie's wisdom in those moments. Seeing them honor her desire, and witnessing Maggie reach her goal, was a wonderful reminder – one I obviously needed.
Now she wants to try riding on the street. She's sure she's ready.
We're going right after lunch.