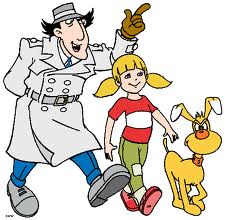 The morning before Hurricane Sandy hit, the kids and I went out to tidy up the back yard and generally batten down our hatches. It was a windy, gray day, and Thomas was shivering beneath his thin shirt. Soon his arms had disappeared from his sleeves, tucked snugly against his middle.
"Thomas, I'm thinking it's going to be kind of hard to clean up with no arms. How about going in to get your coat?" I suggested.
"Okay, that's actually a good idea, 'cause I have to go to the bathroom anyway," he replied, and sprinted for the house.
"Bathroom, then coat!" I called after his retreating figure.
A few minutes later, Thomas reappeared – coatless.
"Hey, buddy, you went in to use the bathroom AND get a coat because it's chilly – remember?" I asked him.
Thomas glanced up. "Huh? Oh, yeah!" and with that, he disappeared back into the house.
Five minutes went by. Then ten. I made my way up the stairs to the back door.
"Thomas?" I called in, "Are you still inside? You were coming in to get a coat so you could help tidy outside, right?"
"Oh, sorry, mommy!" his voice floated down from the upstairs playroom, "I got busy playing with Maggie. I'm coming." He zoomed downstairs and dashed out the front door. Timing it perfectly, I yelled, "COAT!" just as he flashed past the coat rack. His arm flew out, grabbing his coat off the hook on his way by.
A few minutes later he reappeared in the back yard – still coatless.
"Buddy, where's your coat now?" I asked, stymied.
"Oh, it's on the front porch. The girls were playing with a frisbee they found out front, and I started playing too – and then I got too hot in my coat."
Without a word, I finished tidying. Just as we were shutting the shed doors and gathering up the last few items to bring indoors, I remembered something.
"Hey, Thomas! Did you remember to bring in your…never mind." I pushed open the gate and walked around to the front of the house. There, just as I had known it would be, was Thomas's coat, still laying on the porch where Thomas had thrown it an hour before. Smiling to myself, I scooped it up, walked inside and replaced it on the coat rack.
That little vignette is just one of about a thousand similar stories I could tell you about my son.  Some people would define this is as a deficiency in executive function. Others might point to attention issues. Whatever the label, whatever the explanation, chances are people would describe it in negative rather than positive terms. I certainly used to.
Back in my teaching days, I could spot kids like Thomas from a mile away. They were the kids whose papers were always MIA, whose desks looked like a wasteland five minutes after you'd helped them reorganize. They were the infamous "absent-minded professors" who never, never had a pencil, and who took fifteen minutes to get to the sharpener and back once somebody else had lent them one. Their shoes were often untied. And their coats were almost always missing.
The down side to this personality type is woefully evident within the four walls of a school. We teachers need our students to be organized, to pay attention, and to keep track of their things – otherwise, nothing would ever get done! In a school setting, it's easy to see a child like this as a constellation of defects, rather than a truly unique being with strengths and weaknesses – just like all of us.
These days, I choose to see my son in strength and beauty. I choose to reframe my perceptions and rephrase my descriptions.
Where I used to see absent-mindedness, I now recognize a mind that is busily engaged, a brain ablaze with thoughts that spin out far ahead, racing past such mundane things as coats, and pencils, and organized desks. I see giftedness – genius, even. And so I find ways to acccomodate and support. I find ways to honor and celebrate.
I skip the nagging and the annoyance, and grab that pesky coat myself. And I smile.