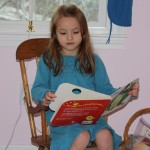 When I was just hours old, I did something truly astonishing in my mother's opinion. I managed to fill my diaper. Enthralled as only a first-time parent can be, my mom promptly called up her entire family. "She works!" my triumphant mother exclaimed.
It's funny how we can know something intellectually, but it doesn't truly hit home until we experience it for ourselves. Of course my mother knew what to expect diaper-wise, but knowing it and experiencing it were two different things. She could hardly believe that this tiny human was completely functional. It was sacred and miraculous – in spite of the fact that it was, well, poop.
Over the past two weeks, I've gotten to experience something I'd already known: the fact that kids are not taught to read, they learn to read. And boy, has it been exciting!
I've read the research, followed the blogs, talked to other unschooling families. I know that kids require much less formal reading instruction than we think. We complicate it by the very act of trying to teach it. And we try to teach it way too soon.
And yet, knowing all that, I was truly astonished as I witnessed my newly-seven year old twins go from pre-readers to readers in the space of two weeks. It works! I wanted to shout. And yes, like my mother before me, I called up my entire family and shared the joyous news.
And just in case you're looking for another unschooling reading success story to add to your repertoire, here's ours.
Faith and Katy have learned to read with no formal instruction at all. They have been surrounded by literature, read-to copiously, and supported when they wanted to write. They have witnessed their brother learn to read, their mother dive headlong into novels for the sheer joy of it, and their father delve into the written word online. Because they are fully involved in real life each and every day, my girls have seen the importance of being able to read recipes, directions, email, and street signs – to name a few. They have become increasingly aware of the fact that the written word is a major source of information in our society. And they've realized that figuring out the code will gain them entry into that world of information.
About two weeks ago, Katy and Faith decided they were ready to break that code. They'd already been writing for about two years. They love to label their pictures, write and illustrate stories, and send notes to each other. When they needed help, I offered it. I took those opportunities to share some very general rules. Because they were internally motivated, the girls were quick to master and apply these rules. I think it took them about two words to have memorized which letters make the -ing sound. They picked up other blends, contractions, and punctuation marks the same way.
Over the last year, the girls have been noticing words they've mastered without realizing it. As Katy played her favorite computer game, she gained many sight words, including all the colors as well as save, print, and exit. Faith started noticing letters on signs and then familiar words. She found she could spell some words without having to ask for help, such as dear, love, and the names of everyone in our family.
Then one day, Faith picked out an easy-reader from our bookshelves, and asked me to help her read it. After about three times through, she'd pretty much memorized the whole thing. She spent the next few weeks "reading" her book to anyone who'd listen. But after a while Cat Traps lost its allure, and she moved on to other interests. About the same time, Katy discovered a different easy reader – one that was less phonics-based than her sister's, and highly repetitive. The Little Critter book Play Ball! gave her the confidence she needed. Soon, she was happily reading it to any audience she could find. This renewed Faith's interest, and suddenly she started pulling out her book again.
As I saw their interest increasing, I suggested a trip to the library. While they searched the shelves for videos, I found a bunch of easy-readers that were geared toward each girl's interests and reading strengths. For Katy, I chose anything cat-related and predictable. For Faith, I picked out books with rhymes and a focus on phonics. I didn't make a big deal out of it while we were there. But when we got home, I set them out and mentioned that I'd picked up a few books they might like to try to read. Within days, they were reading in leaps and bounds. They read alone. They read with Ted or with me. They read to Maggie, when they could get her to sit still. They read on and off all day long and each day they got noticeably better.
Admittedly, the twin-thing was a factor. Neither one wanted to be the "child left behind" in the reading scene. Plus, they discovered that it was kind of fun to read together. They complemented one another nicely, each having a different sight word vocabulary and phonetic understanding to bring to the table. What a sweet picture they made, laying side by side on their bed, a book between them, spurring one another on. Reading for pleasure. Reading for pure joy. Reading because they could!
It's still so new that they sometimes surprise themselves. Today at the grocery story, Katy suddenly started pointing excitedly to the different signs. "That says out!" she announced. "And that says in! And that one says banana and over there I see blueberry!" Then she turned to me, puzzled, and said, "Mommy – how did I know all that?"
"Because you're a reader now," I answered, smiling.
And she is. They both are.
It worked!
For more, read Dr. Peter Gray's article Children Teach Themselves to Read.