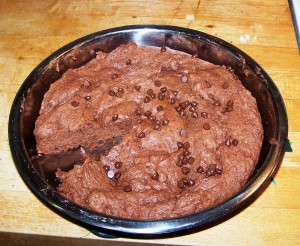 My six year old daughter Katy enjoys cooking with me.  She's a great little assistant; dumping in the flour, mixing in the sugar, cracking the occasional egg when she's in a daring kind of mood.  But today, Katy announced that she was relinquishing the role of assistant, and moving up in the world. 
"I want to cook a dessert, Mommy.  By myself!  With no rules."  By this, I discovered, she meant that she wanted to embark upon a recipe-free, fly-by-the-seat-of-her-pants kind of confection.
My instant reaction was to say no, for several reasons.  First, we live a gluten-free lifestyle, and ingredients are not cheap!  Second, I was just about to start another project. But mainly I was just scared.  I had absolutely no confidence that she could put something together that would come out edible, let alone tasty.  In a flash, I was calculating the losses: ingredients, time, electricity.
Then it struck me: isn't this a perfect example of what unschooling is all about?  Unlike me, Katy was not daunted by the thought of experimenting.  She was confident and excited: she looked at this as an adventure, not a foray into the disastrous.
I knew I was at a crossroads.  I could refuse her, citing my laundry list of negatives, or I could support and facilitate.  Suddenly it occurred to me: maybe, just maybe, we could make something yummy.  Her enthusiasm became mine, as I threw caution to the wind and said, "Sure you can, honey.  May I be your assistant?"