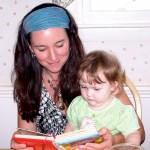 UPDATE: JULY 2013
The article below is an account of the UnNanny experience of my family in July, 2010. Sadly, in the past month, many people have come forward to share far less positive experiences. As of this writing, Dayna Martin has announced that she is suspending her UnNanny service. As with any paid service, it is recommended that you research before reaching a decision.
Tell me and I forget. Teach me and I remember. Involve me and I learn.  – Ben Franklin
"Booked the UnNanny for June. Can't wait!" Browsing through my Facebook news feed, I came across this intriguing post from a friend. I followed her link, which led me to a blog about Dayna Martin and her unschooling family. I had read Dayna's book about radical unschooling a few months back, and had been timidly testing out the unschooling life since. I was intrigued by the philosophy and inspired by her practical wisdom.
When I learned that she was offering her services to those wanting some coaching in living the unschooled life, I found myself compelled to write in.  If you know me at all, you'd sense how out of character this was for me.  I am not one to open my life to scrutiny.  I'm a whole lot more comfortable with a "sit back and watch everybody else without giving away my position" kind of approach.  I sense I'd be great at poker.
Nevertheless, I threw caution to the wind, checked in with my husband and then dashed off a heartfelt email requesting help from the UnNanny.  Then I waited.  Anxiously.  Like someone on one of those dating shows, desperately hoping to get picked.  I had no idea how many requests she got or how she decided whose she would accept. Thankfully, I didn't have to wait long. Dayna was indeed available and willing to come.
The morning of her visit, I picked her up from the hotel so we could have some uninterrupted time to talk before diving into the day.  Right away, I knew the next two days were going to be invaluable.  Dayna's warmth, openness and encouraging demeanor set me at ease and kindled my enthusiasm.  Within moments of arriving at my home, it was clear that the rest of my family felt the same way.
UnNanny is certainly the right name for what Dayna does, because she is the polar opposite of the nannies on t.v.  There was no blame and no pressure.  I could see that she didn't disapprove of my kids (who were obliging enough to have several difficult interactions so Dayna could get right to work!) She genuinely liked them, and her love and acceptance came shining through.  She didn't shame me for my past parenting practices, or make me feel stupid for having a ton of questions about unschooling.
Dayna has a gift for meeting people right where they are, and walking alongside as they travel the unschooling path.  Her gentle guidance and wisdom informed and inspired me. Over the course of those two days we did a lot of talking, and Dayna offered excellent advice.  But even more importantly, she modeled the unschooling philosophy in every one of her interactions, and gave me honest, encouraging  feedback as she observed my family's dynamics.
Dayna's visit left a lasting impression on all of us.  It gave me the courage I needed to pursue radical unschooling. It planted seeds in my husband's thinking that have since blossomed into a true passion for the unschooling philosophy. My kids – even my youngest, who was just a baby at the time – still talk fondly of Dayna and our time together.
If, like me, you've started to realize that the style of parenting being peddled by other "nannies" is falling short of the mark, explore another kind of parenting: one that is peaceful and full of joy.