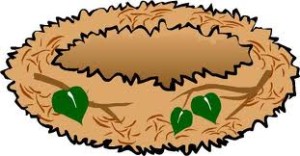 Our three-year old, Maggie, has always co-slept with us. But a little over a year ago we discovered the amazing benefits of co-sleeping as an entire family. For 13 blissful months, we all slept like babies. Seriously… I hadn't been so well rested in decades.
And then it happened.
Thomas, just shy of 10 years old, began bringing up the subject of moving back into a room of his own. He was ready, he assured me, to sleep away from the rest of us. And he REALLY wanted a space to call his own. (Well, his actual words were, "I need a room I can kick everyone out of!" but I'm pretty sure 'space of his own' captures his sentiment.)
So we started discussing it as a family. And, naturally, the girls wanted their old room back, too. They were fairly sure they wanted to sleep there, but clearly the major appeal was that they'd have a place to kick Thomas out of, too. After all, fair is fair. Especially when it comes to kicking people out of rooms, apparently.
In spite of the rather negative imagery, though, I understood. We all have a need for privacy, for a sanctuary that is ours alone. Our children were recognizing that need and responding to it. And Ted and I wanted to honor that.
Multiple family meetings ensued. How would we work with the fact that we only had two extra bedrooms and three children who wanted them? The girls decided they were okay with sharing, as long as they could have their own sections within the room. What would we do about sleeping? Did they truly want to sleep away from us? Thomas truly did. The girls were wavering – so we agreed to leave the queen size bed set up in the sleeping room along with our king. That way, they could always choose to sleep there. Last but not least, how would we go about "kicking people out" in a way that felt positive and respectful? Armed with a colorful poster of suggestions ("please come back later"; "I'd appreciate some privacy"), we agreed that we could indeed find ways to get what we needed without having to be quite so – well – blunt about it.
Next step: moving. Thomas, Faith and Katy excitedly pitched in as we transformed the second floor of our home from a sleeping room, playroom and office back into its original configuration: three bedrooms. It was a ton of work, and to be honest, there was some less-than-enthusiastic grumbling along the way (okay…mostly from the adults, if you must know), but all in all it was a memorable family project. And when we were done, our three older kids cheerfully closed themselves into their respective rooms to putter, rearrange, and generally "nest." They were thrilled.
But that night, as Ted, Maggie and I settled into what was now the master bedroom I discovered exactly what is meant by "empty nest" – and I was the opposite of thrilled. I was…sad. I lay in bed, not hearing the slow, even breathing of four small beings, not hearing the subtle shifts here and there as tiny bodies rolled over, not hearing the occasional puzzling word uttered in dream-filled sleep…and I found myself unable to get to sleep.
I hadn't fully realized just how safe and settled I had felt surrounded by my babes. How secure it felt to close the door on the world and snuggle into our warm and cozy family nest. How reassuring it was to just barely break the surface of waking, know in a glance that all was well, and blissfully re-submerge into a trouble-free slumber.
I wanted my little chicks back.
It's been about a month now, and I still want them back. I still miss their nocturnal presence. But it's been wonderful to see them blossom. They love their rooms, and they cherish their sanctuary. And, surprisingly often, one or two of them wander in during the wee hours of the night and snuggle gratefully into the bed that's always waiting to welcome them here in what I still think of as the "sleeping room".
That's the  beautiful thing about this unschooling life. We are free to explore, free to discover what works, free to choose what we need in the moment.
On Christmas, we had a family-wide sleepover.
I slept like a baby.