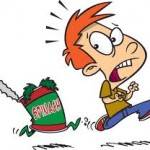 Last night I walked into the middle of a conversation between two moms.  The topic: the age old dinner-time struggle.  One mom was lamenting about how tired she is of hearing that her kids don't like what she has prepared.  The other mom chimed in, saying that in her house, she simply says the kitchen is closed.  She works hard enough making one meal, thank you very much, and she isn't about to make two or three just to accomodate everyone.  It's a simple choice.  Eat what she made, or don't eat.  Either way is fine with her.  And she won't put up with any whining about it, either.
Now, I'm no newcomer to conversations like this.  I've listened to plenty, and participated in more than a few.  But, as a new-ish unschooler, this time I found myself incredulous and aghast.  As I explored why my reaction was so strong, I realized there were several factors at play.
First, expecting our kids to eat whatever we put before them shows a lack of respect.  We are in effect, saying, "Because you are small and physically incapable of preparing your own food safely, your right to eat what you enjoy is forfeit. Because I am the one preparing your food, you will eat what I deem to be nutritous and tasty. When you can make your own food, you can eat what you want.  Until then, sit down, shut up, and eat what I tell you to."  Likely that is exactly what we were told as children.  But this is incredible hypocrisy when we really stop to examine it.
Here's an analogy. Suppose you go to dinner at a friend's, and she's made something you absolutely hate.  I mean the makes-you-want-to-feed-it-under-the-table-to-the-cat kind of hate. What do you do?  Well, the chances are that you will think twice about making gagging sounds and stomping away from the table, but then, you've had decades to practice squelching that first response.  You probably won't even say you're not a fan so as not to make your friend feel bad.  But will you eat it? Perhaps not.  As the creamed peas come your way, you may just quietly pass them on to the next person.  Or, just for good measure, you might scoop a small portion onto your plate and force it down with the aid of your beverage.  What you certainly will not do is pile on a big old helping and get busy, which is just exactly what we expect our kids to do (in fact, we often pile on the big old helping for them).
Now, if it's buffet style, or a large gathering where people are unlikely to notice, you might not actually eat anything at all…you might even leave it for the help to dispose of (in spite of the waste!)  But are you truly practicing the "eat what you're served or don't eat at all" philosophy?  Surely not.  Because you know that on your way home from said function, you can pop through a drive-through and order up whatever your taste buds desire.  You've got that freedom.
Let's tweak the analogy: now you're the one inviting guests to dinner. It pretty much goes without saying that whatever you serve, it will not be something you hate.  Because we're pretty much wired not to prepare something that disgusts us.  As you put together your menu, you give your guest's preferences some thought.  Your goal is to find something that will be appetizing and enjoyable to your guest and at least palatable to you. You would never knowingly serve a vegetarian friend a steak sandwich. And good luck hanging on to that friendship, if you not only served the sandwich, but announced to your friend that she could eat it, or eat nothing, because your kitchen is closed. On the contrary, if by some chance you did prepare a carnivore's feast for a plants-only kind of guest, and then realized your mistake, you would most likely bend over backwards to find something she could eat.  You'd feel bad about it, and try to make it up to her, because her comfort and pleasure are important to you.
Unbelievably, when the above "guests" are our own children, our reaction is to treat them almost with contempt. To plan and serve foods they don't like, and then to talk to them about it rudely and without empathy or respect. We treat them in ways that we wouldn't dream of treating our adult friends.  Why?
Are we acting on future-based fear? The worry that if little Sally is "coddled", she will become spoiled and self-centered? Put yourself back in your own childhood shoes for a moment.  How did you feel when a parent told you to suck it up and eat or go to bed hungry?  Is that really what prevented you from becoming spoiled and self-centered? Isn't it more likely that the positive behaviors you learned came from watching people you loved behave in socially responsible ways?  And that the unkind interactions did more harm than good?
Or are we simply giving tit for tat? Hey, that's the way I was raised, and I turned out fine.  If it was good enough for me, it's good enough for them.  Why should I have to be a slave to my kids?  How can we profess to love our children, but not hesitate to treat them cruelly because we don't think they deserve to be raised more gently than we were?
As a mom with a Christian faith, one more thing troubles me.  Jesus himself modeled tenderness and respect for children.  When his followers were busy trying to shut them up and send them away, He intervened, reproving the disciples, and warmly welcoming the children.  If we profess to be followers of His teachings, shouldn't we follow His example?  If so, I'm pretty sure He'd  never say to a little one depending on Him for nourishment – both physical and spiritual – "Sorry, kid.  This kitchen's closed."