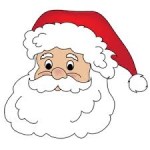 Is Santa real? It's a question we've all asked at some point, and as parents, it's one we're very likely to face again. Our culture is full of stories that aim to strengthen our belief. From Miracle on 34th Street to The Polar Express and The Santa Clause, the theme is the same: one-time doubter finds a renewed sense of belief.
But what of the child who is ready for a larger knowledge? The child teetering on the brink of a new developmental milestone, one in which accuracy and reason begin to trump what scientists term "magical thinking"? When the "just believe" stories are no longer enough?
I still remember the year I entered into that new realm of  Santa-related knowledge. When I discovered that larger magic of Christmas, I felt a tremendous sense of gratitude. I also felt privileged to help bring this magic to my younger brothers, who were staunch Santa supporters at the time. For me, it was a lovely rite of passage.
But this not the case for all children. Some feel deceived, betrayed, even, when they hear the news. For some, the wound is so deep they choose not to share the Santa story with their own children at all, preferring total honesty instead. Stories of these walking wounded can fill us with anxiety. Will this happen with our own children? Will they accuse us of deception? Will they ever trust us again?
My own little boy is teetering on the edge of this precipice. "Dear Santa," he wrote this year, "It is getting harder to believe, but I'm trying to have faith." He's in that uncomfortable "I'm not sure I'm ready to know" phase, but I know that one day soon, he'll be asking me that question: "Mommy is Santa real?"
As an unschooling parent, I place a high value on intentionality. I decided several months back that when Thomas does approach me with that infamous interrogative, I will be prepared with more than just an answer, but with a beautiful rite of passage. A welcoming into the world of knowing, if you will. An invitation to enter in.
As it turns out, I'm not alone. Recently I've come across two other moms who have thought carefully about their answer to the Santa question and penned lovely responses that went far beyond a simple yes or no to explore the deeper magic of the season.
The first comes from writer/teacher Adele Miller, homeschooling mom to three, and nurturer to countless others. You can read her uplifting take on the subject here.
The second letter has made its way to a bunch of websites, but is so good I wanted to include it here as well.
I began working on my own response several weeks back. For me, it was important to tie together the Santa we've loved for more than a decade and our Christian beliefs. Just what does Santa have to do with the Baby Jesus? And if it turns out that one isn't real, why should I believe in the other? These were questions I hoped to answer.
As the idea took shape, the piece evolved. What started out as a short letter grew into a full-fledged story. I realized I'd discovered the rite of passage I longed to share with my son. I would write a story, not just for Thomas, but for any child straddling the worlds of Santa and Messiah, of doubt and belief.  A story for moms and dads to keep high on a shelf, waiting patiently for the question that would one day come. A story to take down and read together, to mark the milestone and celebrate the passage.
By the time next Christmas rolls around, I'm certain I will have shared this story with Thomas. And once I have, I'd like to share it with all of you, too – so stay tuned.
May we all find beautiful ways to shepherd our little ones through their moments of discovery this season and always. Merry Christmas!